In Memory
Marjorie Tully (Teacher)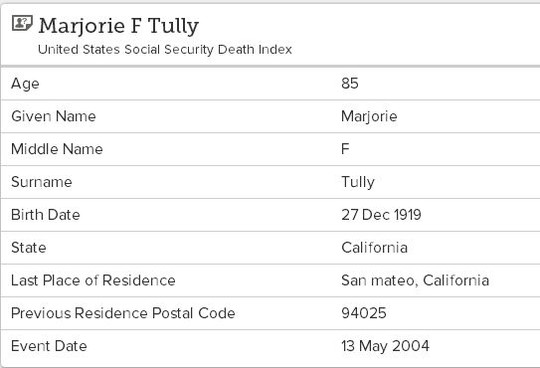 Tully family bequest is
CCCYO's largest gift
Over $5 million has come to Catholic Charities CYO through the estate of an independent and disciplined woman of acute intelligence, keen sense of humor, deep family loyalty, and legendary organizational skills.
Marjorie Frances Tully, an educator, businesswoman and Menlo Park resident who died on May 13, 2004 at the age of 84 bequeathed almost $2.4 million dollars directly to the agency. The funds were received in November of last year. Shortly after Ms. Tully's death, a distribution of $2.75 million came to CC CYO in July of 2004 from a charitable trust of which she was final income beneficiary.
Ms. Tully was predeceased by her two older sisters Mary Louise Tully and Jeanne C. Tully. Jeanne, who died in 1995, funded a charitable remainder trust for CC CYO, naming her two sisters as the trust's income beneficiaries.
The $5 million resulting from the two gifts is the largest amount ever distributed to CC CYO from a single family. The agency plans to use the Tully funds to establish and support community service centers.
Born in La Grange, Illinois in 1919, Ms. Tully came to California in her early twenties and attended Stanford University. According to her cousin Jeannie Tully-McDaniel of Orange, California, Stanford hesitated to admit Ms. Tully because she was short a few credits. "She talked her way in," Mrs. McDaniel said. Ms. Tully graduated with a Masters Degree in Spanish in 1947.
Fluent in Spanish, French and Russian, Ms. Tully began a teaching career in Salinas, California. She later moved to Menlo Park and worked into her seventies as a bookkeeper and accountant for companies on the Peninsula.
According to a friend, Sharon Grennan of San Jose, Ms. Tully was deeply influenced by her father John Charles Tully, a successful inventor and businessman. "I think that's where she got her business skills," Ms. Grennan, a retired probation officer and lecturer at San Jose State University, said. "She was wonderful with numbers."
"I don't think she thought of her wealth as her own," Ms. Grennan added. "She lived modestly, drove an '86 Honda Accord and used the oldest stapler I ever saw. She followed a strict routine, did the New York Times crossword everyday, kept up with world events, loved history and Shakespeare, and followed the ups-and-downs of the San Francisco Giants. She was probably the most organized person I ever met."
Ms. Tully spent her last few years as a resident of Glenwood Inn, a Menlo Park retirement community, where she was known for her wide-ranging interests. She came to table prepared to talk on a variety of subject.
According to Ms. Grennan, in her last year or so Ms. Tully dealt with a diagnosis of cancer with stoic practicality. "She took care of all her funeral arrangements," she said. "Her one wish was to die at home, so she called in Hospice to make that possible.
"She loved cats, Ms. Grennan added. "They matched her independent nature. She had a deep sense of responsibility and took family, friendship, and work seriously. You could count on Marjorie."
Catholic Charities CYO is pleased to enroll Marjorie Frances Tully as a member of its Legacy Circle which honors those who have included the agency in their estate plans. Contact Catholic Charities CYO at 415.972.1291 ormshurgot@cccyo.org.