In Memory
Bud Presley
George J. "Bud" Presley
Former Menlo College coach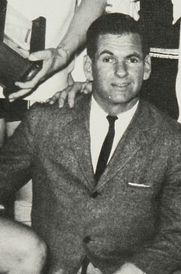 George J. "Bud" Presley, a basketball coach and defensive strategist, died December 21 in Redwood City. He was 80.

Mr. Presley coached the Menlo College Oaks from 1971 to 1983, and led the team to a state championship in 1974.

Mr. Presley began his coaching career in 1951 in Pennsylvania, subsequently coaching at Sequoia and Cubberley high schools before moving on to coaching college teams. He was a member of the California Community College and California Coaches Association halls of fame, and the San Mateo County Sports Hall of Fame. He served as a defensive consultant to the Golden State Warriors during their 1974 title season, and ended his full-time coaching career as a defensive specialist for University of Nevada-Las Vegas in 1983.

A native of San Francisco, Mr. Presley was a three-sport athlete while a student at the New Mexico Military Institute in Roswell, New Mexico, and at Texas A&I. He served in the U.S. Army as a paratrooper during World War II.

He is survived by his wife Gloria Presley of Palo Alto; his daughter Virginia of San Francisco; and one grandchild.

Memorial services are pending.