In Memory
Michael Tanous VIEW PROFILE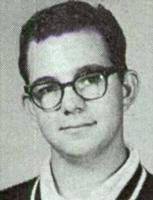 Michael Tanous passed away quietly in his sleep the morning of February 22, 2019. Michael joined the Naval Reserves upon graduation and attended Foothill College for a short time and eventually became an apprentice plumber and later became a plumber for Santa Clara County where he worked his way up to Plumbing Foreman in 1989. Michael worked for the County for 32 years before retiring in 2004. He had built a house in Galt, California that he moved the family to just prior to his promotion so he continued to commute to his job until his retirement.
Michael leaves behind his daughter, Colleen; his son, Christopher and wife Lesa, and 4 grandchildren. He is predeceased by his wife, Dustye Rhodes Tanous (Class of 1968) who passed away 9/25/2010 and his son, Nathan, who passed away 5/3/14.
Michael was a devoted and loving man. His family was the most important thing in his life and he spent his time attending all his grandchildren's sporting events, birthday parties, and family events. He took the whole family on trips to Disneyland, to Las Vegas, and to Santa Cruz. He will be greatly missed by his family and all who knew him.
Click here to see Michael's last Profile entry.