In Memory
Katherine Miller (Malin)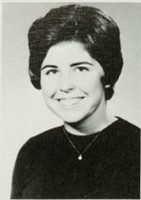 Deceased Classmate: Kathy Miller Malin
Date Of Birth: Dec-30-1948
Date Deceased: April-29-2003
Age at Death: 54
Cause of Death: Breast cancer
Classmate City: Durham
Classmate State: NC
Classmate Country: USA
Was a Veteran: No
Survived By: Son, Reed, 18, daughter, Karelia, 13, husband, Peter, and sister, Ginny (Cubberley '71). Predeceased by sister Barbara (Cubberley '69) in 1994 and mother in 1992 (Virginia Miller, teacher at Ortega, later principal at Nixon).

My sister Kathy was on the Folio staff, a brilliant alto soloist, and a gifted writer who went on to a career as a book editor. She graduated from Harvard in 1969 and received Masters degrees from Stanford in journalism and communications. She is deeply missed for her compassion, humor--always injected with insight--and infectious laugh.